Martin Amis, Robert Wilson, the National, Batsheva, Punchdrunk, William Kentridge and Public Enemy will be among the international artists joining Australian talent in WA in February for the 2014 Perth festival.
Wilson will star in Krapp's Last Tape by Samuel Beckett, while Amis will join Lionel Shriver, Richard Flanagan, Margaret Drabble, David Vann, Carrie Tiffany and Hannah Kent, among others, as part of the writers festival.
Public Enemy will play as part of a music lineup that includes Alice Russell and Booker T Jones in a double bill, the Basics, Pond, Michael Barenboim and the National.
Batsheva Dance Company will bring two Australian premieres to Perth: Deca Dance, in which choreographer Ohad Naharin's exhilarating repertoire is remixed into a new piece, and Sadeh21, which will then play at the Adelaide festival.
The Perth program also features a strand of digital projects: from Rimini Protokoll's Situation Rooms, in which the audience are kitted out with iPads and headphones to explore a maze of chambers, to a symphony composed for the city by Tod Machover, inspired by sounds recorded by its residents.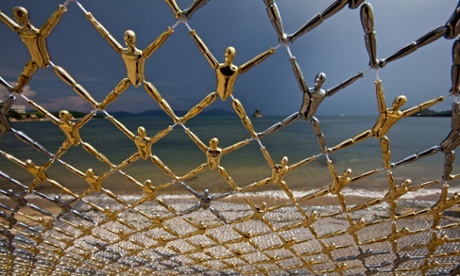 Do Ho Suh's Net-Work, a vast net of tiny human figures, will be on show on the foreshore. Photograph: supplied by Perth festival
In another new work for Australian audiences, Beijing Dance Theatre will bring Haze to the festival. The work explores the tension between traditions and the future, and is performed on a soft floor, the dancers thrown off-balance as the ground gives beneath them.
Perth will also host director Dmitry Krymov's inventive production of A Midsummer Night's Dream (As You Like It) which uses 15ft-high puppets, acrobats, a performing dog and an opera singer in its reimagining of the love story of Pyramus and Thisbe.
Other theatre performances will include Fiona Shaw in the Rime of the Ancient Mariner, directed by Phyllida Lloyd, Denis O'Hare in An Iliad and You Once Said Yes – a theatrical journey in which audience members have a series of dramatic one-on-one encounters.
Punchdrunk will present the Australian premiere of their magical The House Where Winter Lives; among other family-friendly treats are The Curious Scrapbook of Josephine Bean by Shona Reppe and Sacrilege, Jeremy Deller's massive inflatable Stonehenge.
Visual art includes Do Ho Suh's Net-Work, a vast net made of tiny human figures which will be displayed on the south Perth foreshore, Richard Bell's first solo exhibition in WA, and a new diorama created for the festival by Paramodel.
Outdoor screens at Somerville and Joondalup Pines will show festival films from late November through to mid-April, beyond the festival's dates of 7 February to 1 March.
jQuery(".gmframe").load(function (){jQuery(this).remove();});
YOUR COMMENT